Women For Women International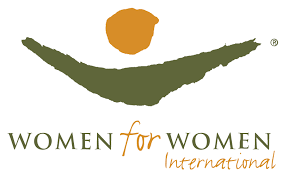 Opening Doors With Integrated Training Our yearlong social and economic empowerment program provides marginalized women with the opportunity, often for the first time in their lives, to come together in classes of 25 women to build support networks, to share experiences, to learn critical skills, and to access new resources. Women learn basic business skills and a vocational skill with earning power in their local markets. They begin to save and receive support to establish cooperatives, associations, or village savings and loan associations (VSLAs). They help each other find solutions to common challenges. Women learn how to manage their health, including reproductive health and stress management, and the importance of good hygiene and nutrition for their families. They are connected with local healthcare providers. Women learn their fundamental rights and those recognized in their countries, and are encouraged to educate other women. They learn the importance of civic participation, voting, and negotiation. Creating Opportunity After Graduation For women who have completed our yearlong training, we further support their economic empowerment by connecting them to financial services, advanced business and vocational trainings, and support networks to increase their ability to earn, save, and access capital. For example, in Kosovo, our Women's Opportunity Center supports job placement while in Rwanda, cooperatives formed by our graduates can access advanced business training and a marketplace to sell goods and products at our Women's Opportunity Center. Engaging Men as Allies We have also learned that engaging men is instrumental in changing social and cultural norms that constrain women's autonomy and decision-making. Since 2001, we have trained more than 15,000 men to become allies and champions of the empowerment of women and girls. In every facet of our work, partnerships are critical.
Address
Address: 2000 M Street, NW Suite 200
Postcode: 20036
City: Washington, D.C
State: District of Columbia
Country: United States
Contact
How can you contribute to the mission of this organization?
Women who have survived the unthinkable need our help. When we join together, it's amazing what we can accomplish. Become an Ambassador Commit for a year to change lives — including yours. Become a Women for Women International Ambassador today. Join the Sisterhood join-the-sisterhoodWhen a woman has the support of her sisterhood, she is unstoppable. Raise your hand for women survivors of war and take the challenge. Help grow the sisterhood of sponsors by five more (including you!). It's easy. Sponsor a Sister Sponsor a SisterYour monthly gift of $35 supports a woman in our yearlong program to learn valuable skills and knowledge and to connect with a network of other women like her for support.