Physicians for Human Rights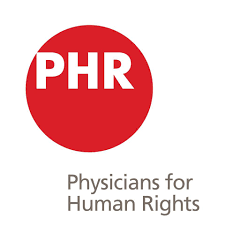 For nearly 30 years, Physicians for Human Rights (PHR) has used science and medicine to document and call attention to mass atrocities and severe human rights violations.
A Nobel Peace Prize co-laureate, PHR is a global organization founded on the idea that health professionals, with their specialized skills, ethical duties, and credible voices, are uniquely positioned to stop human rights violations. PHR's investigations and expertise are used to advocate for the protection of persecuted health workers and medical facilities under attack, prevent torture, document mass atrocities, and hold those who violate human rights accountable.
PHR is poised for even greater growth and impact.  As part of that strategy, we are very excited to be recruiting committed activists with a passion for human rights.  Our headquarters are located in New York City, and we maintain offices in Washington, DC and in Boston. For more information about PHR, please see our website at www.physiciansforhumanrights.org
Address
Address: 256 West 38th Street 9th Floor
Postcode: 10018
City: New York
State: NY
Country: United States