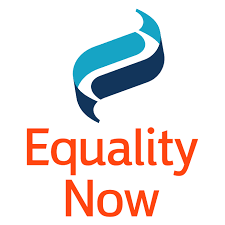 USE THE LAW TO CHANGE THE WORLD. EQUALITY NOW IS DEDICATED TO CREATING A MORE JUST WORLD WHERE WOMEN AND GIRLS HAVE THE SAME RIGHTS AS MEN AND BOYS. OUR INTERNATIONAL NETWORK OF LAWYERS, ACTIVISTS, AND SUPPORTERS HOLD GOVERNMENTS RESPONSIBLE FOR ENDING LEGAL INEQUALITY, SEX TRAFFICKING, SEXUAL VIOLENCE AND HARMFUL PRACTICES, SUCH AS FEMALE GENITAL MUTILATION (FGM) AND "CHILD MARRIAGE".
Social change often begins with legal change and political will to enforce the law.
Address
Address: 125 Maiden Lane 9th Floor, Suite B
Postcode: 10038
City: New York
State: New York
Country: United States
Contact
How can you contribute to the mission of this organization?
GIVE TO EQUALITY NOW
Make a gift to Equality Now and together we can create a just world for women and girls.
A monthly or annual gift is a powerful way to change the lives of women and girls around the world.
Donate Via Mail
US: Complete this form and mail to:
Equality Now
Attention: Development Department
125 Maiden Lane, 9th Floor
Suite B
New York, NY 10038
UK: Complete this form and mail to:
Equality Now
1 Birdcage Walk
London SW1H 9JJ
Join the Leadership Circle
With a contribution of $1,000 or more per year you'll immediately become a member of the Leadership Circle and will receive exclusive invitations to special events, and receive the latest information and materials.
Planned Giving
A charitable bequest is a wonderful way to leave a lasting legacy that benefits women and girls around the world. You may name Equality Now in your will, including our tax identification number (13-3660566), leaving either cash or securities.
A planned gift can also significantly reduce taxes, but it is best to discuss these benefits with your financial advisor.
Donation of Stock or Securities
Please contact us for details on how to make a gift of stock or securities.
Workplace Giving
Many employers have matching gift programs so that employees can maximize their gift's potential. If you have any questions, please contact us.