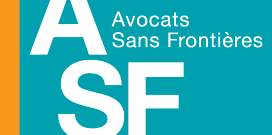 Established in Brussels in 1992, Avocats Sans Frontières (ASF) is an international NGO specialising in defending human rights and access to justice. From Kinshasa to Tunis, from Jakarta to Kampala, our teams inform people about their rights, help civil society and lawyers to provide them with better assistance, and promote legislative reforms designed to increase respect for human rights.
OUR MISSION: to assist people, particularly those in a vulnerable situation, to become emancipated by demanding and asserting their rights.
OUR VISION: for us, justice is essential for preventing and managing conflicts as well as for promoting human rights.
OUR INTERVENTION ZONES: we intervene in situations where the full and effective realisation of rights and individual and public freedoms is seriously endangered. These situations are mainly characterised by
structural dysfunctions of the justice institutions
a lack of independence of these institutions
the manipulation of the law by political, military or economic groups, at the expense of the general interest.
shortcomings in terms of willingness and/or capacity of the State to ensure the provision of basic public services, including the public service of justice
economic development prospects severely compromised
significant social tensions.
OUR ACTIVITIES:
All our activities are carried out in partnership with local entities: organisations and civil society groups, lawyers, bar associations, local institutions and authorities, community leaders, paralegals, social workers, international NGOs and other institutions… Our activities fall into three categories:
Provision of legal aid services: organisation of legal centres, provision of legal representation, raising awareness and educating the population on their rights…
Capacity building: professional training of lawyers; awareness-raising and information for justice personnel, institutional support to bar associations for the development of the profession and organisation of legal aid, training of local NGOs on law and procedure, observation of trials, creation of cases files, or working with victims, networking for creation of local synergies…
Advocacy: meetings with local and international institutions and authorities, submission of position papers,  publications, organisation of roundtables…
Contact:
ASF headquarters is located in Brussels, but is not open to the public, so contact them in advance if you plan on visiting them. To contact a specific department visit their Contact page here
Avenue de la Chasse 140 Jachtlaan
1040 Brussels
Belgium
Phone: +32 (0)2 223 36 54
How can I further the mission of this organization?
To further ASF's mission one can access their Resources page and learn about their Law of Detention Across Countries, Publications, and Trial Observation Platform by clicking here. Subscribe to ASFs newsletter by clicking here